Right, so Chris, Zach, Josh and I were wanting to play some soul wars. There was one problem, though: We wanted to play
together
, as a
community
.
Anybody that has talked to me for more than 10 seconds knows that I feel there's a real lack of an immediate world-side community in Runescape. Well on this specific night I was proven quite wrong.
The magic all started when Zach said, "If each of us gets 4 friends we'll have enough people to play SW on this world."
I immediately doubted the possibility of this happening; surely pulling together
20
people without prior warning was no longer possible in the game. Being a bandit and a true lover of community gaming (I.E. The Pizza Bandits <3), I figured it was worth a shot anyways.
We starting PMing friends; people I hadn't talked to in years, months, whoever was online received a PM. I PMed about 7 people, 3 of them replied "NO," 2 replied "YES," and still 2 more didn't even answer. I was still skeptical.
We decided to start a train with the 8 or so people we had. Zach led the train while I typed a SHITLOAD and got one step closer to tuberculosis and/or arthritis in my wrists. Ah well.
The train pulled back into its station at the Soul Wars bank. We'd picked up 3 to 6 more people. Not bad. I was beginning to feel that this MIGHT be possible. We still had a good 10 people to go, though.
Zach and I decided to go to World 44, the main Soul Wars world. Once in-world we proceeded to advertise my Friend Chat, stating "Less lag, more fun! Luketh's cc for 10v10 W36 Soulwars!"
This gained us a few more people; 5 or 6, perhaps. I now felt that there was a definite possibility of the W36 Soul Wars game happening; there was still a hope for the community!
Zach and I once again patrolled Edgeville bank, the Grand Exchange, and Varrock West bank advertising the game. More people came, contenders invited friends, somehow we gathered up the 20 people we needed for a game.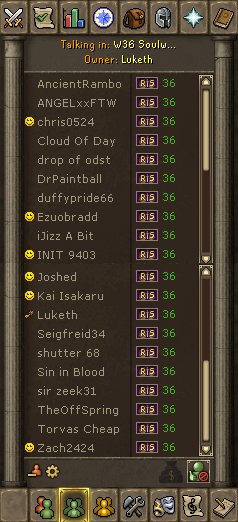 Unbelievable. We ACTUALLY gathered 20 people from the community. People wanted FUN! They weren't looking for their Zeal! They wanted to play! By this point we'd spent about an hour and a half advertising for the game and I was more than ready to play. We piled the green portal for an even game, I landed in red. The players trickled in. The game began: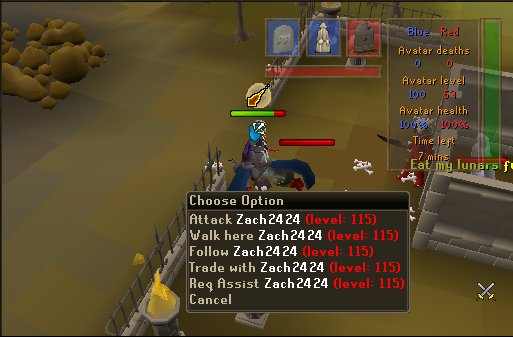 Zach died at my hands.
I died at his.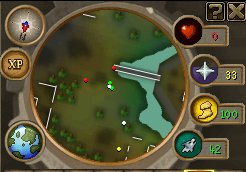 I also died at other friends' hands.
Chris got his fair share of dying too...
We played 2 games overall. It didn't last long, but I now know that there IS a community in Runescape still and they ARE willing to play together. This makes me extremely happy for both the future or The Pizza Bandits and any other clan or team-oriented group in Runescape.
That's all I've got. A very happy Luke signing off.