Hello everyone! Barrowing expert Josh here, and I will teach you maggots how to not die in this battlefield.
Do you think you are ready for this? Well, if your levels in combat reach this high, you should be set.
The minimum Requirements:
60 Combat in all melee stats
60 Magic
61 Ranged
43 Prayer
Of course these stats will get you almost nowhere! But at least you would survive. Now if you maggots want to gain some money doing this, it starts at when you get all those skills at 70. Here are the stats where you can do Barrows runs in hardly minutes!
The Recommended Stats
75+ Attack will do
75 Strength will do, you only melee one brother
70+ Mage, you will be maging many brothers, make this your top priority
70+ Ranged, you will range only one brother.
55+ Prayer, the higher the level your prayer is, the better the profit!
What To Bring
Now that you know you are ready, I will show you uneducated young ones what to bring!
Here is an example of some equipment and an inventory set for Barrows.
Bring a spec weapon for Karil!
Either bring a Slayer's staff, or bring a salamander.
Bring lots of prayer potions, if this is your first trip, bring extra!
Bring some super potions if you would like, if not, replace it with food or prayer potions.
Bring Food! Monkfish will do, but sharks are better, obviously.
Make sure to bring runes if you are using the Slayer's Staff. Bring the required tar for your color of Salamander if you are using one of those.
Bring Broad bolts if you have a rune crossbow, if you are using a salamander, replace it with your tar.
ALWAYS Bring a Ring of Wealth, you can bring a ring of life along also if you would like.
And for you higher levels out there this is a really good setup
The key is to use the spec restores after you kill a brother to recharge to 100%, when you fight a brother use the korasi spec, then drink a sip of spec restore then use it again, you can usually dispatch of the melee bros pretty easily this way since the spec is 100% and mage based, also the claws are excellent for ahrims and karil
Helmets:
Helmet of Neitiznot > Berserker helm > Fighter hat > Barrows helmets > Dragon med helm > Rune full helm
Amulets:
Amulet of Fury > Amulet of Glory
Bodies:
Bandos chestplate > Verac's Brassard > Proselyte hauberk > Fighter torso > Other Barrows Chestpieces > Dragon Platebody/Chainbody.>Black D'hide Body
Legs:
Bandos tassets > Verac's Plateskirt> Proselyte cuisse > Other Barrows Leg Equipment> Dragon Platelegs > Rune platelegs
Boots:
Dragon boots, Bandos boots
Capes:
Completionist cape > Soul Wars cape > Ardougne cloak 4/3 > Fire cape > Skill cape > Obsidian cape > Legends cape
Weapons:
Chaotic rapier > Chaotic longsword > Chaotic maul > Abyssal whip > Godsword (Saradomin > Armadyl > Bandos > Zamorak) >Dragon Weapons> Barrows weapons
Shields:
Dragon defender > Rune Defender > Dragonfire shield, Toktz-ket-xil > Spirit shield > Dragon Square Shield
Gloves:
Barrows gloves > Dragon gloves > Rune gloves> Combat Bracelet
Rings:
Ring of wealth > Berserker ring > Ring of life > Explorer's ring
Don't Get Steve'd
ALWAYS
Remember your spade, no matter what happens, that should be your first priority before a Barrows trip to make sure you brought a spade!
Alright, Soldier! Now you are geared up and ready to go fight the Barrows brothers! How do you get there, you ask? Well, there are multiple ways of getting to your designated location, but I will highlight the best ways.
You can either go by Fairy Rings, or the traditional route.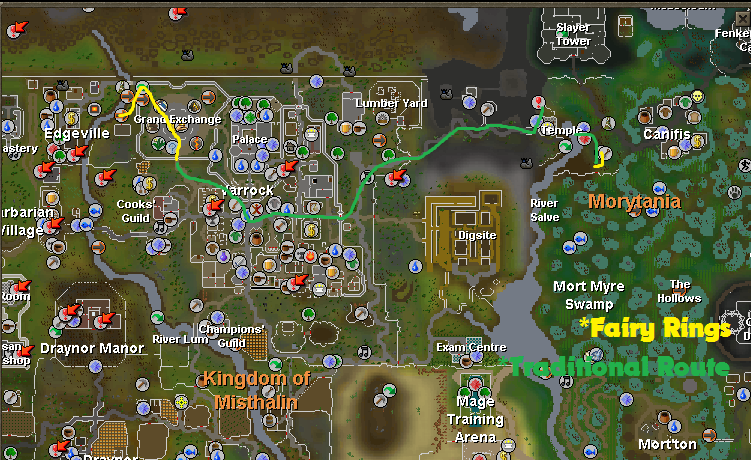 Then you take this route to take a ride on the Swamp Boaty
Rest on the bridge, once fully rested travel East and get ready for battle!
Who to fight, and how to fight them
Here is a map of the mounds and the order you fight them in: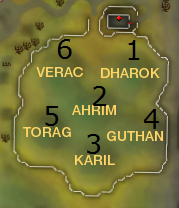 Dharok is the first brother you fight, you need to pray against melee for him at ALL TIMES, he can one hit you, and then you will be left standing there not knowing what just happened. You will need to mage him, use Slayer Dart or the magic attack on your salamander.
Ahrim is the second brother. He uses magic attacks, so make sure you pray against magic. You will need to Range Ahrim, you can use your salamander or a rune crossbow.
Karil is the third brother, pray ranged against him. Take out your spec weapon and use all your Special Attack bar before switching to your main weapon.
Guthan is the fourth brother. You will no longer need to pray on the following brothers. Guthan has a special attack which heal himself when he hits you, so if you want to pray melee during the beginning of the fight, go ahead. You will want to mage him.
Torag is the fifth brother, mage him. He has nothing but a high defence.
The final brother is Verac, you can not pray against him, he will hit through it. This is where your food comes in.
After all of them are dead, you will notice that one of the mounds said there was a tunnel inside, do not go in there until the other brothers are dead. Then find the mound, and go inside the tunnels. You will want to get around 10 KC in the tunnel. After that, you will need to find the chest. If you see the chest on the other side of the room, that's good. Noe you make your way around the center room until you find the openable door. Once that door is found, open it. there is a puzzle needed to be completed to proceed.
Here are the puzzles and their answers:
Now that you are in, fight the last brother, equip your Ring of Wealth, and loot your rewards!
Good luck, friends!