Avansies are insane range exp and money, and if you go prepared you can stay there for very very very very long periods of time collecting items to sell and alch, It is 100% not recommended AT ALL to go range avansies without the following quests/Mini quests done unless you have A LOT of money to buy other god items not requiring the quest.
REQUIREMENTS:
QUESTS & MINI-QUESTS:
Temple of Ikov.
Horror from the Deep.
Mage arena minigame.
ABSOLUTE REQUIRED QUESTS:
Death Plateu.
REQUIRED STATS:
70 ranged
60 strength
REQUIRED ITEMS:
One Armadyl, Bandos, Zamorak, and Saradomin item EQUIPPED!
Mithril Grapple.
Climbing boots.
BRING A ROPE IF IT'S YOUR FIRST TIME TO GWD ONCE YOU USE IT ONCE YOU NEVER HAVE TO DO IT AGAIN!!!!
Now that the requirements are outta the way lets move on to the reccomendations.
Reccomended Stats:
Ranged: 70plus
Defence: 70plus
Prayer:43plus
Agility:45plus
Your gear:
Helm: Saradomin Coif(G.E. 82k)
Amulet:Armadyl Pendant(Temple of Ikov quest)
Body:Black d'hide body
Legs:Black d'hide legs
Cape:Zamorak cape(Mage arena mini-game)
Shield:Damaged Book/Book of war(Bandos) (Horror from the deep quest)
Weapon: Rune crossbow
Ammo: Mithril bolts and up
Boots:Snakeskin boots, CLIMBING BOOTS ARE REQUIRED TO GET THERE!
NOTE: This gear CANNOT be changed. The only differences that can occur are that each slot that I have a god Item can be switched with a different god item as long as you have items equip from all four gods: Bandos, Armadyl, Saradomin, Zamorak.
If you are more experienced with gwd feel free to mix up the god equipment and even leave out one or two to replace them with different more protective items.
Your inventory: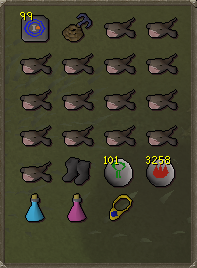 Bones to peaches tabs
Mithril Grapple
15 Monkfish or Shark
CLIMBING BOOTS!
Runes to alch certain drops
Ranging potion(4)
Super energy potion(4)
Games Necklace
ROPE IF IT'S YOUR FIRST TIME!!!!!!!!!!!!!!!
Also I forgot to mention that you can bring a helm and shield after you have entered the armadyl room for added protection.
See inventory and equipment for more experienced players at the end
How to get there:
First go through the death plateu with protect from ranged on. Turn it off when you get to this point.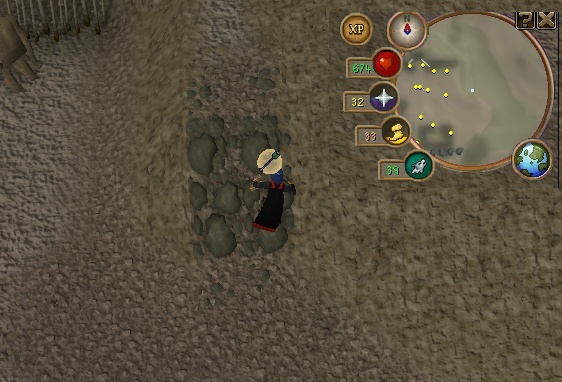 Then follow the path and turn protect from range on again when prompted (See map above.) Now when you get to the boulder push it out of the way and TURN PROTECT FROM MELEE ON WHEN YOU SEE THE FIRST WOLF! ALSO IF THIS IS YOUR FIRST TIME YOU MUST TALK TO THE WOUNDED SOLIDER WHO WILL GIVE YOU A NOTE TO RETURN TO FALADOR LATER!
Now once your in the gwd follow this path: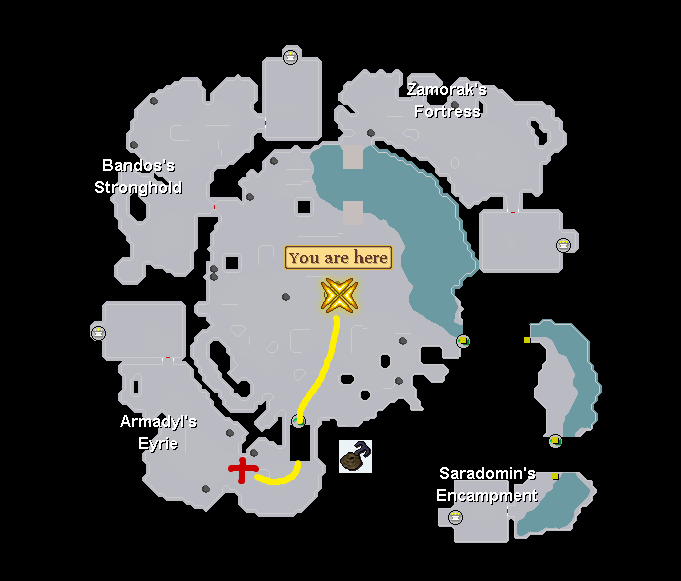 Pretty much just head south and equip your mith grapple and use it on the pillar. Now your there, Alch all the rune daggers you get and other stuff that's worth alching and collect all the adamant bars and whatnot and you'll be on your way to teh richness.
Also when you start to get low on food remember to pick up all the bones too to use the bones to peaches tabs. Peaches heal 80 life points each which means this could start to add up and you can really stay here a long time.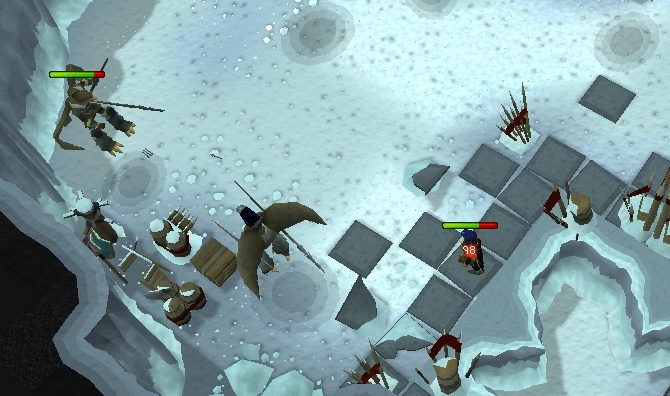 More Experienced Players:
For those more experienced players who know what they're doing, this Equipment and Inventory may be used. Also these can be changed.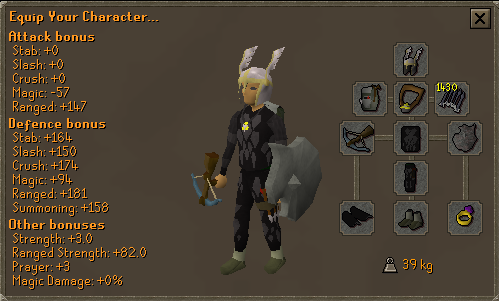 NOTE: EQUIP THIS -AFTER- YOU GET TO ARMADYLS ROOM!
Weapon:Rune crossbow
Ammo:Mithril bolts and up
Cape: Ava's Accumulator
Helm: Helm of Neitiznot
Amulet:Amulet of Armadyl(MUST ALWAYS BE EQUIPPED UNLESS YOUR WEARING AN ARMADYL COIF)
Body:Black dhide body
Legs:Black dhide legs
Boots:Snakeskin boots
Gloves:Black dhide vambraces
Shield:Granite shield (Loss of range accuracy and heavy but excellent ranged defence.)
Ring: Archers ring, some other kind of ring. Not the ring of wealth as shown above.
BEWARK OF GORAK (ZAMORAK LV149!)
Inventory(Experienced):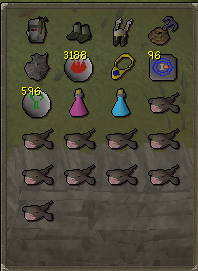 Ava's accumulator
Snakeskin boots
Helm of neitiznot
Mithril grapple
Granite Shield
Runes to alch with
Games necklace
Bones to peaches tabs
Ranging potion(4)
Super energy potion(4)
10 monkfish
Climbing boots(equipped)
ALL POSSIBLE DROPS:
Well unfortunantly there are many leveled Avansies and I reccomend you stick with the lower ones by the way, besides that they all have a drop or two different depending on their level but heres a rough idea of what you be getting.