GENERAL GAME SETUP INFORMATION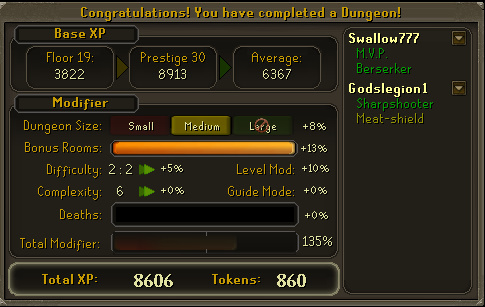 Base Experience
Floor: Open as many rooms as possible--this counter does not differentiate between bonus rooms, etc.
Prestige: Complete every floor possible ONCE per reset to maximize XP. If you are not of a high enough level to advance to the next floor, reset your progress. Prestige is a measure of progress, and comes the number of floors you completed before resetting. This will stay with you for each floor that you complete after resetting, and has a great effect on base xp.
EDIT: If you play a floor for the second time...
If a lower floor of the same theme (frozen, abandoned, etc) has not been raided by you, then the floor you raid will be treated as if it was this lower floor. This means that the lower floor will be counted as complete (ticked on your floor interface before a dungeon) and your base value of XP will be calculated according to this lower floor.
If a higher floor of the same theme (frozen, abandoned, etc) has not been raided by you, then the floor you raid will be treated as if it was this higher floor. This means that the higher floor will be counted as complete (ticked on your floor interface before a dungeon) while your base value of XP will be calculated according to the floor you are currently raiding, NOT the higher floor.
If there are no floors of the same theme (frozen, abandoned, etc) that have not been raided by you, you will receive a 0 XP prestige contribution to your base value.
Modifiers
Dungeon Size:
There is a bonus for raiding medium/large dungeons. While some people may advocate quickly going through small dungeons to maximize experience, I feel doing the largest dungeon possible is the best way to level, at least on the Abandoned (2) and last Furnished floors. A medium dungeon requires at least one player, while a large dungeon requires at least three. A maximum of five players can be in any one dungeon.
Bonus Rooms:
While part of the modifiers, opening bonus rooms also increases Base Experience, so opening as many as possible can drastically increase XP gained.
Level Modifier (misnomer, really):
Kill all the monsters you face -- this will ensure that you get the maximum 10% bonus. It is still possible to get the full modifier if monsters in dead ends are ignored. When rushing, it is good practice to only kill monsters in guardian rooms and rooms with valuable resources--the way it ends up is that most rooms have to be cleared, so that skillers have access.
Difficulty:
This has to do with how many people the dungeon is designed for. The higher the difficulty, the better the experience. When choosing a higher difficulty than recommended, make sure that your members plan to stay for the whole dungeon. I don't recommend dungeoneering with complete strangers, as it is difficult to find reliable party members--if any members leave, the remaining people will incur a significant xp penalty.
Complexity:
This describes how many skills could be used in completing the dungeon. While levels 4-6 do have members skills on them, Level 6 is the only one that does not have an experience penalty. While some sources advocate going Level 3 for F2P, I have not encountered too many difficulties with Level 6. Additionally, the higher the complexity level, the more in the spirit of Dungeoneering.
Guide Mode:
Turn it off, that is all.
Deaths:
Naturally, deaths will decrease experience gained--it's a pretty heavy detractor, at -12% per death. DON'T DIE: That's the Pizza Bandit mantra. Know it.
All these factors will determine the final experience from the base experience. It is expressed as a percentage and determines how much of your base experience is the final experience. For example, if you have 110% and your base experience is 100, you will get 110 final experience.
If in a free-to-play world with an average party combat level that is 90 and above, you receive an automatic -%50. To avoid this penalty, go to W61 and join parties of 3 skillers (sk) and 2 combats (cb). Floors are generally done on small from 1 - 29, and large only on 30-35. Depending on the members, some will agree to do larges on Furnished floors.
Tokens: The game divides your final experience by ten and rounds to the lowest whole number. A number of rewards can be purchased from the Rewards Trader at the main camp on the surface.
BASIC IN-GAME KNOWLEDGE
When you first enter the dungeon, you are in the supply room, also known as the home base. There is an array of equipment and food laid out on the tables, along several stations at which to process materials. Also in the home base is the smuggler, who offers basic supplies and will also buy items from you. Pick up higher-tiered bags to sell him. To complete a raid, you must defeat the boss. There are several rooms in each dungeon, some of which will require keys to open or be tests of skill. Other rooms contain puzzles, while Guardian Rooms require all monsters in the room to be killed before the doors can be opened.
Equipment
Ores/Metals: Melee Armor and Weapons
Pictured below: full fractite.
Mage Armor: Plants
Spin the plants on a spinning wheel to make cloth, which can then be crafted into armor. Needle and thread can be bought from the smuggler or looted from monsters. Monsters will drop plants and mages will drop pieces of their armor.
Ranged Armor: Hides
The hides in Daemonheim do not need to be tanned before being crafted into armor. Rangers will drop pieces of their armor.
If killed, there is a chance that the mastyx will drop hides. The chance is much greater that mastyx will give hides upon being trapped (Hunting).
Food
To minimize the amount burned, cook food on the highest tier logs available. Even better, locate an empty range in the dungeons: fill it with logs, light them, then cook.
Logs
BOSSES
Required Dungeoneering level to encounter the boss is in parentheses.
Example: (1) Gluttonous Behemoth; A Dungeoneering level of 1 is required.
"PRO WAY" method -- quick kills, only a few pieces of food required. When I dunge, I usually take about 4-5 shortfins and flatfish from the start and keep them with me for emergencies. They usually last to the boss fight and can be a lifesaver if one accidentally enters the boss room.
Frozen
(1) Gluttonous Behemoth: Stand between it and its food source(s). All players should be present to block a source, as the number of food sources is equivalent to the number of players. Easily killed with melee, use protect from magic if it is a higher-leveled one.
PRO WAY: Pray Ultimate Strength/Incredible Reflexes and solo. Stand in front of it and allow it to heal--it is great combat xp. Quick battle.
(1) Astea Frostweb: Use a combination of range/melee to easily dispatch her. Her protection prayers are completely random and not attuned to your combat style. She will summon spiders to attack you, up to five for a soloer, and two each per person on a team.
PRO WAY: Eagle Eye or Ultimate Strength/Incredible Reflexes when you are ranging or meleeing. Melee whenever she has not frozen you into place. Quick battle.
*Masta's Tip: When facing Astea Frostweb, one of her attacks is shooting icicles at you from the ground where you are standing. Pay close attention when you see these appear, running immediately can result in a safe evasion from the attack. This can be difficult due to her freeze attacks.
(1) Icy Bones: Since he summons stalagmites around him, which can deal a good bit of damage, it is best to melee. He is one of the easiest bosses to kill, with his low defense.
PRO WAY: You don't need to be pro to own Icy Bones.
(5) Luminescent Icefiend: When it encases itself in ice, run around the room to avoid the icicles--this special cannot kill you, so eat AFTER the attack is over. Be careful when teaming the icefiend so as to not run into the path of a teammate's icicles. It's good to coordinate a direction to run in to avoid this. Range/melee combination proves effective in killing the icefiend.
PRO WAY: Just melee with Ultimate Strength/Incredible Reflexes.
(11) Plane-Freezer Lakhranaz: The slippery ice makes it annoying to melee. The best strategy is to range, then melee if you are next to it. I suggest bringing from five-ten short-finned eels and protecting from either magic (blue orb) or range (icicles).
PRO WAY: Nope, still annoying. Use regular method.
Updated Version:
(17) To'Kash the Bloodchiller: He uses a mix of magic and melee. I generally melee, using protect against magic. He is weak to crush. His special attack involves freezing everyone in the room in a block of ice, with one person being broken out first. This person needs to break out the other members of the team to prevent them from taking more damage. He will prayer drain if you use protection prayers.
PRO WAY: Ultimate Strength/Incredible Reflexes and Protect from Magic. Quick battle.
Abandoned
(23) Bulwark Beast: It uses magic a lot, so protect from magic should be on throughout the battle. Use a good pickaxe to break through its armor, then switch to a better melee weapon. Magic is also a good option once the armor is broken, if your defence is high enough to withstand the falling rocks.
PRO WAY: Protect from Magic and Ultimate Strength/Incredible Reflexes. Food is likely to be necessary if you are soloing.
(23) Skeletal Horde: Stay close to the divine skinweaver and range the skeletons. For every three skeletons or so killed (for a soloer), a portal can be blocked off--listen to when the skinweaver calls to close a portal. The divine skinweaver can rapidly heal, so little food is necessary as long as you stay near her (in the tiled range). To make the whole process more efficient, kill the weaker skeletons and zombies so you can block off portals faster. NOTE: If with a party, the skeletons can become very high-leveled (122+) and hit faster than the skinweaver can heal. Turn auto-retaliate off and stay on the tile next to the skinweaver, with protect from range on. Take as much food as possible and hope for the best. Prepare a gatestone teleport and use it to prevent dying multiple times.
PRO WAY: See above.
(23) Hobgoblin Geomancer: Don't rely on prayer, as he is able to both disable it temporarily and drain it, adding to his own health. Use a combination of range/melee: range when he teleports away and melee when he teleports right next to you. He is not difficult.
PRO WAY: He's a noob. See above.
(29) Unholy Cursebearer: He will rapidly drain your combat stats. Melee against him while protecting from mage. Only drink from the unholy founts to restore your stats if absolutely necessary.
PRO WAY: He's a noob. Ultimate Strength/Incredible Reflexes to counteract the stat drainage while using Protect from Magic. Food is typically not necessary.
Furnished
Updated Version:
(35) Har'Lakk the Riftsplitter: He has high-hitting special attacks--he summons flame and miasma portals that can kill extremely quickly. Get out from underneath the portals as soon as possible. If you use protection prayers, he will drain prayer. Use melee and stab, which is his weakness. Range and mage are not recommended, as he will just keep using special attacks. A useful strategy is to turn on protect from mage as soon as you enter: he will concentrate on normal attacks rather than rapidly summoning portals. If in a party, have someone range, running around the room as much as possible to distract Har'Lakk, while the rest melee and hit the majority of the damage.
PRO WAY: He's a demon, and thus, weak to magic. Use this information as you will.
(35) Rammernaut: As a melee boss, he can give heavy, consistent hits. He has high melee and range defense. However, it is disadvantageous to mage him because he can hit heavily through robes. Get him into a corner--when he tries to charge, he will simply fall down, since he needs to turn before charging. If you fail to evade the attack, your protection prayers will be disabled and your health will be significantly reduced. In his ground-crushing attack, he will reduce your defense. Wear the best melee armor possible to shield against his hits.
PRO WAY: He is extremely weak to magic. Run around the room and evade his attacks, teleporting out if need be.
(35) Stomp: Every time it loses 1/3 of its hp, it will enter a defensive position and be invulnerable. Crystals and rocks will fall from the ceiling. There will be shadows on the ground where the rocks will fall--avoid the shadows and collect the crystals if possible. Place the crystals into the lodestone and wait for Stomp. If one of the lodestones next to Stomp is blocked by rocks, save the crystals for use the next time. If the lodestones are not charged, Stomp will heal the 1/3 health and the fight will continue. Stomp will die after the lodestones have been charged three times. Melee and ranged are effective.
PRO WAY: See above.
(39) Lexicus Runewright: Use range, as he can deflect melee attack back towards you (50% of it, so DON'T MELEE...unless you suck at meleeing anyways and wouldn't hurt yourself). Use the bookshelves to your advantage. When he shouts "Almanac Attack!" he will teleport away and a few 10 hp books will begin attacking. Kill them before continuing to kill Lexicus, as they can build up. If Lexicus shouts "Book Barrage" run away until the books explode.
PRO WAY: He's a noob to range.
(45) Sagittare: He perpetually has protect range on, so it is best to melee. Use Protect from Magic to avoid being frozen. Right before he teleports, he will say "Back Off!" and perform his special. Take his advice and run to where you think he will be next.
PRO WAY: See above.
(51) Night-Gazer Khighkorahk: There are four pillars of light around the room. You do not need a tinderbox to light them. As a soloer, alternate between running around the room to light them and fighting the Night-Gazer. For a team, station one person with each pillar. They will occasionally go out, dealing damage if you are standing two spaces away or closer. The more pillars lit, the better damage you will deal to the Night-Gazer. If you come within melee range of the Night-Gazer, which stands in the center of the room, it may rear up on its legs and do a special attack (a blue sphere appears, then it slams into the ground), hitting over 700 damage. Run away quickly to avoid the special. It will never use the special attack if you keep away, so ranging is recommended. Meleeing can be the fastest way to kill it, as long as you watch out for the special. You need to kill it twice, as it will regenerate. The pillars are continuously lit during the second form.
PRO WAY: Ultimate Strength/Incredible Reflexes, mind the pillars of light.
(59) Shadow-Forger Ihlakhizan: Note that there is a safe spot that can be used to rest mid-fight: from the south-western pillar, go two spots south and one spot west. Only his melee attack can be blocked using prayer. With his melee attack, he swings his body around--move off adjacent squares to avoid it. With his magic attack, an orange beam appears on top of him. One of his special attacks involves green goo affecting random spots across the room. The other can hit up to 80% of your health and drain up to 50% of your stats--you will be warned of it in the chatbox. When he starts to glow, hide behind one of the four pillars he is suspended from. Do not hide there too long after the attack, as shadows will rise up from the ground and attack. It is weak to stab and slash, so use melee while wearing ranged armor to protect from his magic attack.
PRO WAY: The Shadow-Forger is a noob, as long as you avoid the blinding burst of light. Ultimate Strength/Incredible Reflexes and Protect from Magic--just keep on hacking. At least one piece of food recommended.
Updated Version:
(65) Bal'Lak the Pummeller: His weaknesses are stab, crush, and range. He uses all three combat styles, hitting up to 200 with each of them. He can attack two or three times in rapid succession and also hit you twice in one attack with his twin warhammers. The longer the time you spend in the room, the higher his defense gets--there is a bar on the top of the screen that will indicate how far along it is. As a result, concentrate on getting in hits. Portals will appear on the floor around the room--do not stand on them or near them, or you will take damage. Luring Bal'Lak onto them will reduce his defense bar, but don't waste too much time trying. Have a couple cosmic runes and create a gatestone outside. When his defense gets too high for you to hit through, teleport out and wait a minute or so for the bar to go back down.
PRO WAY: He is a demon, and thus, weak to magic. Use this information as you will.
POINTS TO REMEMBER
Home Teleport: No runes, can always be used
Gatestone: Create a gatestone (3 cosmics) and drop it where you want to return to later. It requires no runes to teleport to an individual gatestone. A group gatestone is given to the leader of the party at the start of a dungeon. Teleporting to the group gatestone will either teleport you next to your leader (if they are holding the gatestone) or to the gatestone itself (if the leader dropped it). It requires 3 laws to teleport to a group gatestone; the other option is to teleport home and use the group gatestone portal. Make a gatestone as soon as possible when in medium or large dungeons, as it can easily get you back to a boss room. If the chance of death is high during a boss fight, drop a gatestone at home and teleport out to restock if necessary.
Binding: From Dungeonering levels 1-49, only one item and 125 runes or arrows can be bound. A bound item will remain after each raid. To un-bind an item, you must destroy it. A good choice of a versatile weapon to bind is a spear or 2h. As range and melee are the primary styles used in dungeons, I recommend binding arrows rather than combat runes.
Supplies: It's generally a good idea, in large parties, to have someone dedicated to gathering and storing supplies back at the home base. The things that everyone in a party should have in case obstacles are encountered: hatchet, tinderbox, pickaxe, and hammer. Sell less useful things from the supply tables to get enough initial money to buy the supplies. Fishing rod and feathers are recommended in case a good food supply is found far from base (you will also need them for a ferret puzzle).
Armor: Melee armor in Daemonheim has a larger negative bonus on magic and range than expected--mixing armor sets to range/mage is not recommended. Save coins until the boss has been sighted before spending them on hides or metal.
Party: Use the 'Inspect' function under the ring to see if someone else has a key you need. Additionally, you can be heard anywhere in the dungeon by teammates when speaking in public chat, a point I find extremely useful.
Weapon Choice: Use 'Crush' in the Frozen Floors: Mauls, Spears, 2h's, Battleaxes, Warhammers. Use 'Slash' in the Abandoned Floors: Spears, 2h's, Rapiers, Longswords. Use a mix of Crush/Slash in the Furnished Floors: Spears, 2h's.
Prayer: If you find a prayer altar in your dungeon, save the bones you find to use on the altar rather than burying them: it will give 4x the xp.
Resource Dungeons: Hidden dungeons over Runescape will be accessible at various dungeoneering levels. They contain special rewards and will grant xp the first time you enter one.
SOLOING
Know where you are: Drop a useless item in front of a door that leads down a dead end. This can be extremely helpful if one door in question leads to several rooms, all of which you have completed.
Supplies: Gather valuable things to bring back to base that you anticipate using: stumblewood branches (Tier 5 wood), raw giant flatfish or short-finned eel (Tiers 4, 5), fractite ore (Tier 5), bryll (Tier 5), dromomastyx hide (Tier 5). Even if you don't need it later, you can get valuable experience processing them before finishing the raid.
Bosses: The bosses encountered on the Frozen and Abandoned floors should not be very challenging. On the Frozen floors, the standard food picked up from monsters should suffice (dusk eels). A mix of dusk eels and a few pieces of higher-tier food will be appropriate for the Abandoned floors. On the Furnished floors, expect the bosses to require as much of the best food as you can obtain.
Gatestones: Use a combination of individual gatestones along with the group gatestone. Keep in mind that the group gatestone can be reused, only requiring laws to teleport to it. The individual, however, requires runes for creation and none for teleportation.